Primary Source
Children and Daguerreotypes (Handout) [Still Image]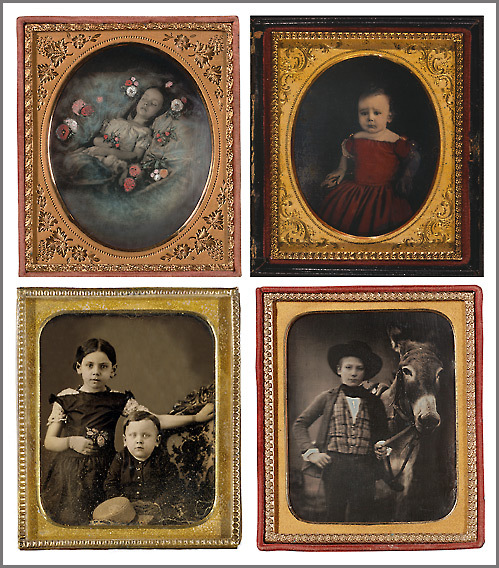 Annotation
Daguerreotypes were the first commercially viable photographic process. Developed by French chemist Louis Daguerre in 1839, the technique quickly made its way to the US in the 1840s, the beginning of what some historians characterize as the "golden age" of childhood. Although the daguerreotype method was tedious—dependent on complicated chemical preparation, long exposure times, and an involved development procedure—the daguerreotype proved immediately popular because of its ability to capture detail and provide a "true" likeness.
One of daguerreotypists' most popular sitters proved to be children. This series of daguerreotypes represents a range of childhood images: a postmortem representation, a hand-colored portrait, a brother and sister study, and photograph of a boy with a donkey. These offer several insights into the 19th-century's conceptualizations of childhood. As such, the photographs invite students to think about the different depictions of boys and girls, children's work, children's relationship to pets, sibling affiliation, and the cultural importance of children, generally.
Download PDF of images here.
Source
Fig. 1–Unknown, Postmortem of Young Girl, ca. 1855, Nelson-Atkins Museum, Kansas City, MO; Fig. 2–Unknown, Unidentified child, three-quarters length portrait facing slightly left, ca. 1855, Library of Congress, Washington D.C.; Fig. 3–Unknown, Unidentified children (possibly Linus and Mary Alice "Pett" Barbour), ca. 1851–1860, Library of Congress, Washington D.C.; Fig. 4–Unknown, Boy with Donkey, ca. 1850, Nelson-Atkins Museum of Art, Kansas City, MO.
How to Cite This Source
"Children and Daguerreotypes (Handout) [Still Image]," in Children and Youth in History, Item #175, https://cyh.rrchnm.org/items/show/175 (accessed August 10, 2021). Annotated by Paula Petrik