Primary Source
Postcard of Women and Girls with Cradleboard, Temuco, Chile [Object]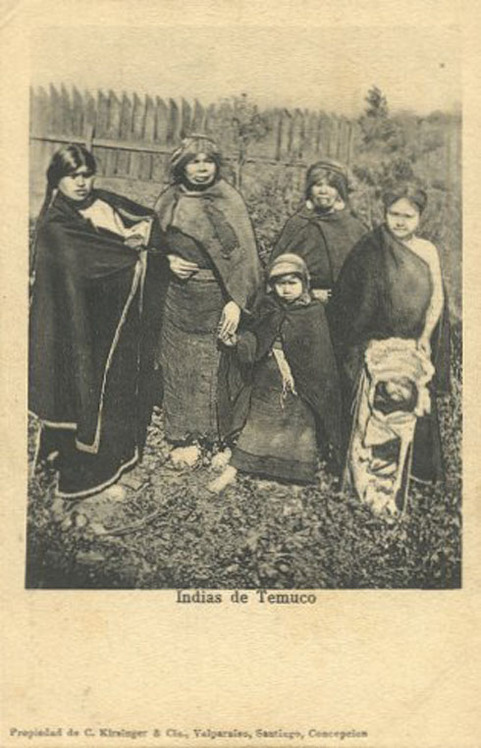 Annotation
This postcard, from the early 20th century, shows a group of women and children, most likely belonging to the Mapuche people. The Mapuche occupied a large area in the cone of South America, the territory of the current nations of Chile and Argentina. Indigenous American tribes were popular subjects for postcards around the turn of the 20th century, and a large subgroup of postcards portrayed babies in cradleboards—called "papooses."
One of the women is holding a cradleboard upright in front of her, and another is holding a young girl by the hand. The use of cradleboards was widespread among indigenous American ethnic and tribal groups. With variations in the shape of the board, the use of fabrics and lacings to bind the child onto the board, and the arrangement of the protective hoods, cradleboards display remarkable uniformity across North and South America. One postcard legend described this variation on the worldwide practice of swaddling infants: "the Cradle of the Indian children consists of a board made of slats, with hood of same material or wicker. the youngster being bound with bands there to uncomfortable in appearance yet the children seem fat and happy. they are usually carried on their mothers back wrapped in a bright shawl.[sic]"
The postcards—some with black-and-white or color-retouched photographs, and others as color lithographs—often featured captions intended to be humorous, such as "An Embryonic Warrior" or "Snug as a Bug in a Rug." One postcard of a Navaho papoose from the popular publisher Fred Harvey contained a printed legend commenting on indigenous American childrearing practices: "The Navaho child is seldom punished for the simple reason that he seldom requires it. There appears to be a bond of sympathy and love between parent and child which is very strong during the minority of the child, but strange to say the children do not always love and protect their parents when the latter become old and infirm."
Source
"Papoose Cradleboards of the Nations," Betty's Postcard Album, <a class="external" href="http://gelean.tripod.com/papoose.html">http://gelean.tripod.com/papoose.html</a> (accessed August 31, 2009).
How to Cite This Source
"Postcard of Women and Girls with Cradleboard, Temuco, Chile [Object]," in Children and Youth in History, Item #301, https://cyh.rrchnm.org/items/show/301 (accessed August 10, 2021). Annotated by Susan Douglass