Primary Source
Street Children Billboard, Uganda [Still Image]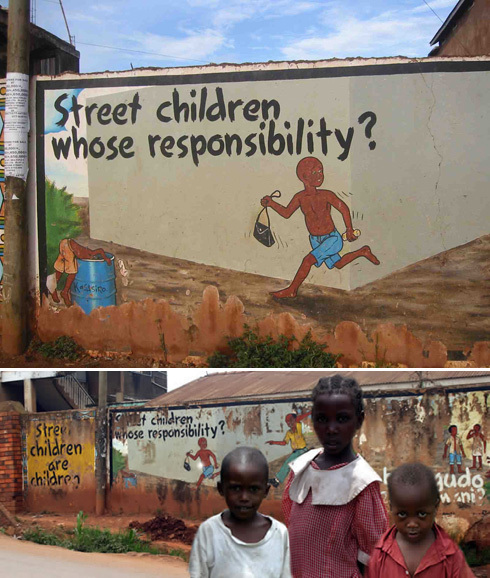 Annotation
The billboard shown in the two photographs carries a slogan used widely by non-governmental organizations (NGOs) to promote public interest in the plight of abandoned, orphaned and runaway children living on the streets in cities of Africa, Asia, the Americas and elsewhere. The photograph of Ugandan children standing in front of the billboard wall shows two additional messages, "Street children are children. . . [too?]" and a message in the local language. In addition to raising consciousness in the public about their situation, these organizations provide food, shelter and social services such as medical care, drug abuse counseling, HIV/AIDS prevention education, self-help and vocational training, and educational programs, as well as psychological support. Some of are faith-based organizations representing various religions that run ministries to proselytize among the children or offer religious services together with donated services. As British photographer and geography teacher Bob Jones said about East Africa, "Poverty is a major trigger for the creation of street children. Boys are often forced out of homes in rural areas because a lack of employment opportunities as well as the break up of the family unit through the scourge of HIV/AIDS." Other organizations using the slogan operate in Pakistan, Bangladesh, Russia, Tanzania, and South Africa, to name only a few countries.
Source
Top photograph courtesy of Bob Jones, "Images of Uganda," Geography Internet: Staffordshire Learning Net, http://www.sln.org.uk/geography/images_of_uganda.htm. Bottom photograph from Uganda Update, http://www.bgillott.org/cgi-bin/dada/mail.cgi/archive/intercessors/20080817141958/ (accessed November 8, 2009). Annotated by Susan Douglass.
How to Cite This Source
"Street Children Billboard, Uganda [Still Image]," in Children and Youth in History, Item #345, https://cyh.rrchnm.org/items/show/345 (accessed August 10, 2021).