Primary Source
Hobby Horse [Painting]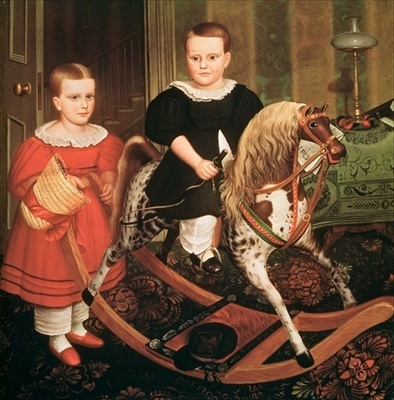 Annotation
This oil on canvas painting by an unknown American folk artist was painted around 1840. It depicts two siblings at play. While their mother is absent from the picture, she presided over the "private sphere" of the home as prescribed by the ideology of "separate spheres" that defined everyday life in 19th-century America. Charged with raising boys to be citizens (and girls to be wives and mothers of citizens), it was mothers' moral duty to oversee the development of their children's "good character." As a result, sons under the age of 6 inhabited the domestic sphere along with their sisters where they were dressed in the same loose-fitting pantaloons, dresses, and petticoats.
Although both girls and boys both donned silk, satin, and velvet dresses, there were differences in their apparel and activities. Young boys were distinguishable from girls by their hairstyle (boys were more likely to wear side parts) and hats. Boys also engaged in different play activities: it was considered indecent for girls to straddle a rocking horse. Rocking on the "hobby horse" enabled boys like this youngster to practice the balancing ability he would need in order to ride a real horse as he took his place in the "public sphere." Riding the rocking horse and brandishing a whip also provided boys with the opportunity to practice the skills and sensibilities of masculinity—independence, mastery, confidence, control, courage, and dominance. The boy's placement at the center of the painting and protectively above and in front of his older sister, also prescribed his position in the Victorian gender hierarchy where he would perform manliness through initiative, competition, forcefulness, and rationality.
Compare this work with images of children in other folk art paintings. How else are girls and boys represented?
Source
The Hobby Horse c. 1840. National Gallery of Art, Washington DC, USA. Annotated by Miriam Forman-Brunell.
How to Cite This Source
"Hobby Horse [Painting]," in Children and Youth in History, Item #346, https://cyh.rrchnm.org/items/show/346 (accessed August 10, 2021).