Primary Source
Krishna Tied to a Mortar for Stealing Butter [Miniature Painting]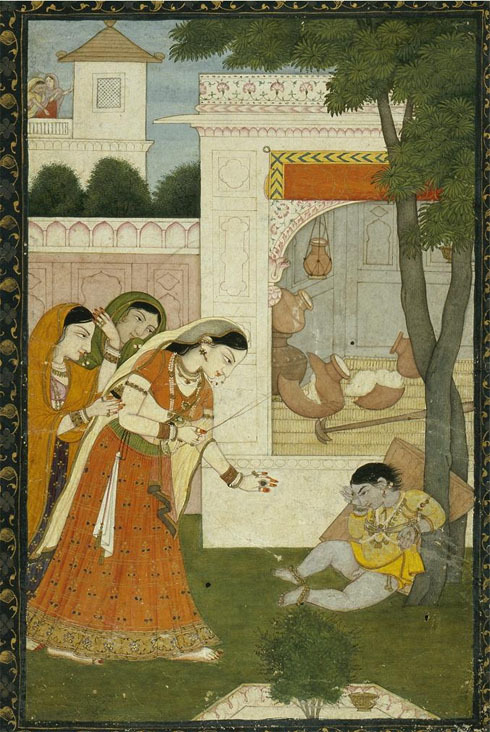 Annotation
Krishna is known in the stories of the Bhagavata-Purana as the 8th incarnation of the god Vishnu, destined to perform great deeds and remove the evils of the world. Shown in this Indian miniature watercolor painting as a child with grey-blue skin, he is a popular deity, a divine hero who personifies superhuman powers as well as human hopes and failings. Stories of Krishna's childhood with his loving foster-mother Yashoda in a village of cow-herds are much beloved and illustrated in paintings and sculptures.
This painting reflects Krishna's mischievous prank of entering houses and stealing cream, curds, and butter while the women are absorbed in household chores. To reach the pots hanging from the ceiling, he climbs on the back of another boy, stacks pots or grinding mortars on top of each other, or sometimes knocks holes in the pottery containers. He then feeds monkeys or his village playmates. As shown in the painting, Yashoda tried to restrain him by tying cords to a heavy grinding mortar. Hearing a loud crash, she found that he had dragged the mortar between two trees and felled them. In some versions, Krishna's action releases two men imprisoned in these trees. As always, Yashoda appears to scold him, but like the other village women, is disarmed by his charms.
The miniature painting measures 18.4 x 12.7 centimeters, and is dated to 1810 C.E. It belongs to the Pahari style of the Himalayan foothills, a courtly style of the Rajput kings that flourished from the 17th to the 19th century. The painting shows many details of village life, though more ornate and idealized than in reality. Attributes such as affection shown to children, implements and scenes of daily life and homes, and traditional dress are portrayed in the painted space.
Source
"Krishna, the Butter Thief, is tied to an upturned mortar to prevent him from stealing more curds," Set 40, Bharat Kala Bhavan III: Pahari Paintings Repository: Uttar Pradesh, Varanasi (Banaras), Banaras Hindu University, Bharat Kala Bhavan, BKB #372, Rights Photo: © Asian Art Archives, University of Michigan. Annotated by Susan Douglass.
How to Cite This Source
"Krishna Tied to a Mortar for Stealing Butter [Miniature Painting]," in Children and Youth in History, Item #356, https://cyh.rrchnm.org/items/show/356 (accessed August 10, 2021).