Primary Source
Krishna and the Cremation of Putana [Miniature Painting]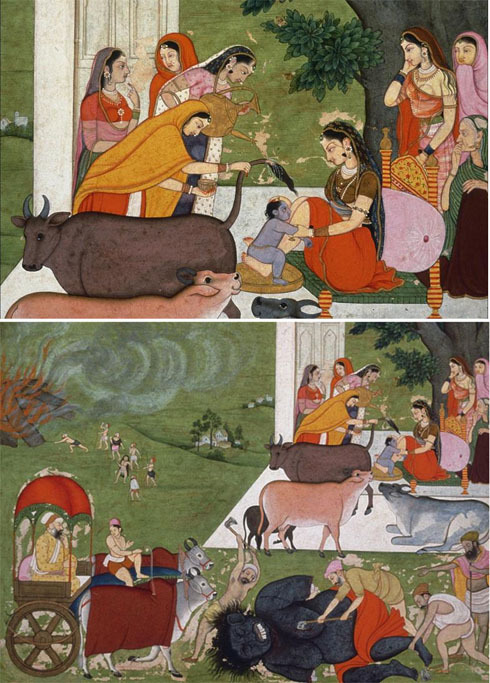 Annotation
Krishna is known in the stories of the Bhagavata-Purana as the 8th incarnation of the god Vishnu, destined to perform great deeds and remove the evils of the world. Shown in this Indian miniature watercolor painting as a child with grey-blue skin, he is a popular deity, a divine hero who personifies superhuman powers as well as human hopes and failings. Stories of Krishna's childhood with his loving foster-mother Yashoda in a village of cow-herds are much beloved and illustrated in paintings and sculpture.
The first demon to threaten the infant Krishna was the flying ogress Putana who abducted and killed infants and children by feeding them poison milk from her breasts. Putana, in the form of a beautiful woman, came to the house of Yashoda to kill Krishna. Yashoda did not recognize the danger, and allowed Putana to nurse the infant Krishna. Krishna, destroyer of wickedness, was immune to the poison. Holding fast to her breast, he sucked her milk and with it, sucked the life out of the ogre. Putana writhed with convulsions making the ground shake. As Krishna held her, she assumed her ugly form and fell to the ground, uprooting trees over a wide area. The villagers approached the corpse to find Krishna playing on top of her. As the painting shows, the villagers chopped Putana into pieces and prepared a cremation fire. The women and Yashoda bathed Krishna lovingly, rocking his body over a basin and gently pouring the water into a stream over a cow's tail.
The miniature painting belongs to the Pahari style of the Himalayan foothills, a courtly style of the Rajput kings that flourished from the 17th to the 19th century.
Source
"Putana's Cremation," leaf from a Bhagavata Purana, ca. 1770, from the Punjab Hills, Guler or Kangra, opaque watercolor on paper, 22.5 x 30.5 cm, Rajput, Pahari, Guler or Kangra Set 40, Bharat Kala Bhavan III: Pahari Paintings, Uttar Pradesh, Varanasi (Banaras), Banaras Hindu University, Bharat Kala Bhavan, BKB #6701. Annotated by Susan Douglass.
How to Cite This Source
"Krishna and the Cremation of Putana [Miniature Painting]," in Children and Youth in History, Item #358, https://cyh.rrchnm.org/items/show/358 (accessed August 10, 2021).