Primary Source
Doorstep School-on-Wheels, Mumbai [Photographs]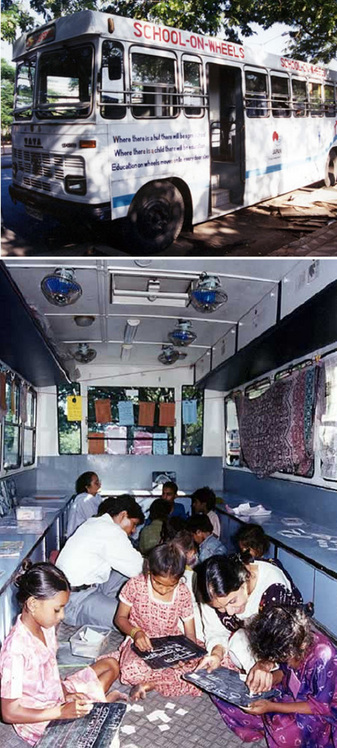 Annotation
The photograph shows the School-on-Wheels, a project of the Doorstep School in Mumbai, or Bombay, India, which has been functioning since 1998. The School-on-Wheels is a converted bus fitted with cabinets filled with stationery supplies, books, toys, and chalkboards, decorated with curtains and children's art, and staffed by a teacher and roving supervisor. The project serves the unmet need of children who live in the slums of Mumbai, child laborers and street children who otherwise do not have access to education. By coming to where the children live, work, or beg, such as Fashion Street and the World Trade Center, bus depots and railroad platforms, the bus brings regular educational experiences to marginalized children in hopes they will continue and enroll in a regular school. School-on-Wheels strives to impart basic literacy skills to groups of children who have no settled residence or live where there are no schools, or their parents cannot get them to school regularly. The mobility of the bus, and its ability to attract children wherever they are found, is an advantage. Lessons are not the only option for children who climb into the bus. They can play with toys, read or be read to from audiotapes, and practice basic skills in a supportive but non-formal environment with other children. In the cities of Mumbai and Pune, about 50-70 children attend at any one time. Social skills and problem solving unique to this population are among the services provided, and the bus is also the scene of basic hygiene and street safely skills sessions. On occasion, the bus takes children on field trips to museums, the zoo, to a bank, a hospital and a police station, hoping to dispel fears among children who may have had negative experiences with law enforcement, and also in order to teach students about their rights. Similar projects to reach children with insufficient access to schooling include neighborhood mobile classrooms targeting girls in the slum neighborhoods who may not be permitted to walk any distance to school. These are held on rooftops, at girls' homes, and in temple courtyards, for example. According to the organization, it serves 8,000 children in about 100 projects related to schooling for underserved populations, with international NGO and private donor support.
Source
Doorstep School, http://www.doorstepschool.org (accessed March 5, 2009). Annotated by Susan Douglass.
Primary Source Text
"I go to Door Step School. Like me many students from 3rd to 10th standards sit in the Library and do school work. If we have difficulties then we ask Tai and she explains. In case we have no school work then we are given books to read. There are guides, vocational guide series and other books for us to read. Our timing is from 2 to 4. We learn English and Computers also. First we sing our National Anthem and prayer. We celebrated Nag Panchami and got sweets that day. Our Tai's name is Savitri. She teaches us well. We have tables and chairs and picture charts like A to Z animals, birds and vegetables on the walls. We are taken to laboratory for experiments and to Balbhavan. We take part in elocution, writing competitions. We have parties where we sing songs. I like to go to Door Step School class because it is fun."
– Ashvini Pawar – 5th Standard
"We are both 11 years old. We started coming from June 2004. In the beginning we couldn't understand anything. Then Tai gave us books on grammar and essay writing because they are important. In the school test we got good marks. Then our mothers said we should go regularly to Door Step School because that really benefits us. We like to come here."
– Sarika Shinde & Supriya Dhangar -- 6th Standard
How to Cite This Source
"Doorstep School-on-Wheels, Mumbai [Photographs]," in Children and Youth in History, Item #372, https://cyh.rrchnm.org/items/show/372 (accessed August 10, 2021).