Primary Source
Custom of Cutting the Topknot, Thailand [Photographs]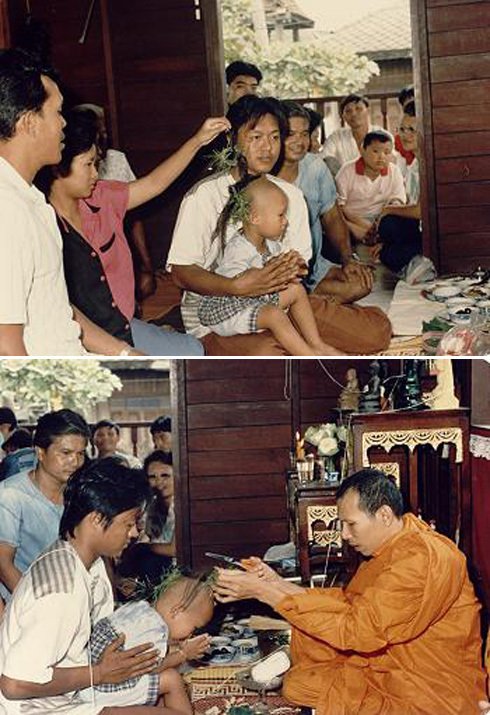 Annotation
The custom described in the text by Phya Anuman Rajadhon is presented as it was traditionally practiced in Central Siam. The head of an infant was shaven as part of the khwan ceremony celebrating its survival and welcoming into the family. Some of the hair over the soft part of the infant's skull was left to grow into a topknot, to be cut in another ceremony when the child came of age. The author associates the custom with Indian cultural influence in the distant past, and documents its relationship to Buddhist practice. The second text and the photographs from the author's family collection documents the continuation of the practice among modern, urban families, but also shows its modification in modern times. The author reports that it has become much less common among contemporary families, amounting to a tiny percentage of the children in the author's primary school. In addition, the topknot was cut at a much earlier stage in the child's life, at the age of about 6-7 years, assuming that some of the children still wore it in the primary school.
The text describing the custom is from the 1968 book by Phya Anuman Rajadhon (1888-1969) Essays on Thai Folklore. The author is a prolific and well regarded literary figure and university professor. Although he did not receive formal academic training in anthropology, his writings have constituted a major source for anthropologists and others on customs from Siam, the traditional name for Thailand. The second text and photographs are from the baby photo album on a website by Thailand's most prominent teenage blogger, Panrit "Gor" Daoruang (1986- ), who began an online diary at the age of twelve, and chronicled his own life and aspects of Thai culture and contemporary life. The site also teaches both English and Thai language through stories, quizzes, and audio files. The site attracted the attention of the Office of the National Culture Commission for its value in promoting Thailand's image to a worldwide audience.
Source
Text: Phya Anuman Rajadhon, Essays on Thai Folklore, 3rd ed. (Thai Inter-Religious Commission for Development, Sathirakoses Nagapradipa Foundation,1988), 281–83. Text and Photographs: Panrit "Gor" Daoruang, "Top Knot Cutting," Thailand Life, http://www.thailandlife.com/my-thai-childhood/top-knot-cutting.html (accessed November 24, 2009). Annotated by Susan Douglass.
How to Cite This Source
"Custom of Cutting the Topknot, Thailand [Photographs]," in Children and Youth in History, Item #375, https://cyh.rrchnm.org/items/show/375 (accessed August 10, 2021).