Primary Source
Piegan Play Tipi [Photograph]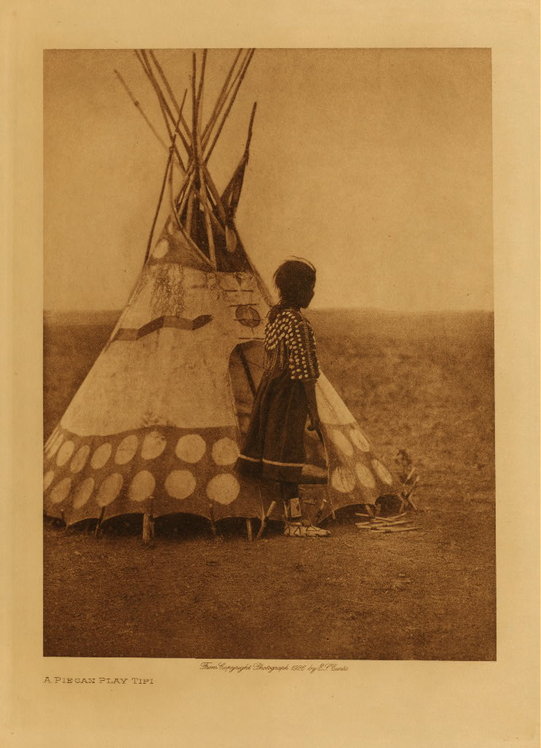 Annotation
The photograph, dated 1928, from the well-known ethnographic collection The North American Indian by Edward Edward S. Curtis, is a portrait of a young Piegan girl standing in front of a painted tipi, or conical tent. The label on the photograph by Curtis indicates that it is a play tipi, meaning a child-sized version of the tents used for families among this Native American group. The tipi, or lodge, is like the larger versions in every way, and is elaborately decorated, giving some indication of the importance given to the girl's realistic play and replication of adult activity. The Piegan Indians are also known as the Pikuni branch of the Blackfoot Indians, the southernmost tribe belonging to the Blackfoot Confederacy. Their range was the Rocky Mountains area on the southern bank of the Marias River in today's Montana.
Source
Edward S. Curtis, The North American Indian, volume 18 (Seattle: E. S. Curtis, 1907-1930), Charles Deering McCormick Library of Special Collections, Northwestern University Library, http://memory.loc.gov/award/iencurt/ct18/ct18046v.jpg (http://memory.loc.gov/award/iencurt/ct18/ct18toc.html) (accessed December 28, 2009). Annotated by Susan Douglass and John Buescher.
How to Cite This Source
"Piegan Play Tipi [Photograph]," in Children and Youth in History, Item #406, https://cyh.rrchnm.org/items/show/406 (accessed August 10, 2021).