Primary Source
Bat Miztvah [Photograph]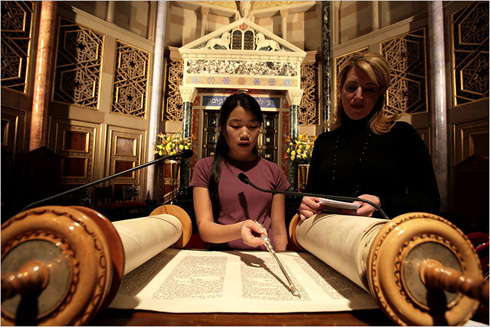 Annotation
The girl in the photograph, Cecelia Nealon-Shapiro, reads from the Torah as part of her bat mitzvah, a rite of passage ceremony, at Congregation Rodeph Sholom in New York City. Prior to this day, she attended classes in Jewish history and tradition, Hebrew, and recitation at the Reform synagogue, where girls now participate in a rite formerly reserved for boys, the bar mitzvah. Following the service, the family and guests, including several girls who were adopted by American families from the same orphanage in China, celebrated at an elaborate party.
At age 12 or 13, a Jewish girl becomes a "bat mitzvah" which literally means "daughter of the commandment." Bat mitzvah marks the time when a Jewish child is old enough to perform the mitzvot (commandments) and is considered an adult in the religious community. Neither the bar mitzvah for boys, nor the bat mitzvah for girls are formal religious ceremonies. The bat mitzvah observance is not carried out in Orthodox and Chasidic synagogues where women are not allowed to lead prayers.
Learning about Jewish history, customs, and holidays is a way that modern Jewish communities seek to transmit tradition and law to a new generation. The spirit of the bat mitzvah also includes choosing service to the community, representing engagement with the larger world beyond the family and living according to the values of their faith.
Source
Photograph by James Estrin, "Journey From a Chinese Orphanage to a Jewish Rite of Passage," The New York Times, March 8, 2007, http://www.nytimes.com/2007/03/08/nyregion/08batmitzvah.html?_r=1&pagewanted=2 (accessed March 31, 2010). Annotated by Susan Douglass.
How to Cite This Source
"Bat Miztvah [Photograph]," in Children and Youth in History, Item #437, https://cyh.rrchnm.org/items/show/437 (accessed August 10, 2021).