Primary Source
Trafficking Child Beggars in Southeast Asia [Photograph]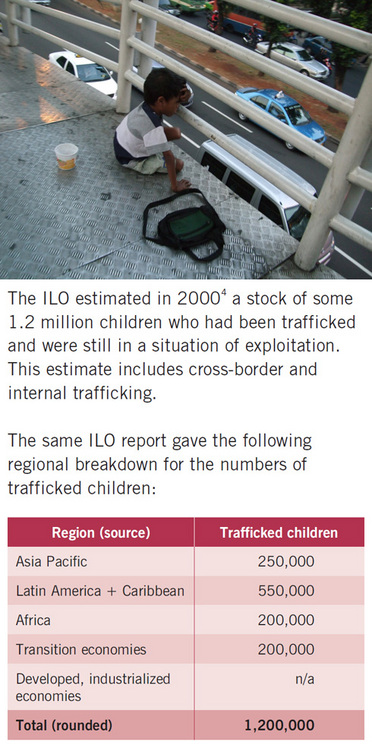 Annotation
The young child in the photograph sits on a walkway in Jakarta, Indonesia, a victim of trafficking for the purpose of begging. Trafficking of women and girls for prostitution has been a well-known phenomenon in Southeast Asia, but trafficking for begging on the streets is a more recent trend. Children of poor, often rural, families are being captured at the borders, or parents are deceived into thinking their children will receive opportunities in the cities.
Children caught begging illegally by police in Bangkok, Thailand, are returned to Cambodia, some to waiting parents, others to charities or local government agencies. Others find their way back to urban streets. In the worst cases, children are mutilated so as to elicit sympathy. Officials note that children trafficked to a foreign country are even more vulnerable due to language and customs differences, as well as increased discrimination. They are even less likely than indigenous children to know how to seek help.
The chart reveals International Labour Organization (ILO), International Programme on the Elimination of Child Labour (IPEC), and UNICEF data for the year 2000 on trafficking of over a million children annually, and some 250,000 for the Asia Pacific region. Efforts to combat child trafficking include improving law enforcement and border controls, but perhaps the most effective work is at the community level.
Source
World History Archives, http://www.hartford-hwp.com/archives/54/index-aea.html by the Institute for Global Communications (IGC) Tides Center http://www.igc.org/ from "A new kind of trafficking: Child beggars in Asia," World of Work, no. 26, 1998; Chart from IPEC: Every child counts: New global estimates on child labour, Geneva, ILO, April 2002, in Training manual to fight trafficking in children for labour, sexual and other forms of exploitation / International Labour Office, International Programme on the Elimination of Child Labour (IPEC). - Geneva: ILO, 2009 – page 34 at http://www.unicef.org/protection/index_exploitation.html (accessed March 15, 2010). Annotated by Susan Douglass.
How to Cite This Source
"Trafficking Child Beggars in Southeast Asia [Photograph]," in Children and Youth in History, Item #439, https://cyh.rrchnm.org/items/show/439 (accessed August 10, 2021).