Teaching Module
New Zealand Childhoods (18th–20th c.)
New Zealand School Photographs, 1950 and 1964 [Photographs]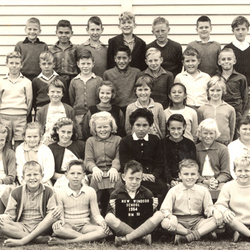 Annotation
Going to school was a universal experience for New Zealand children during the 20th century. Most attended locally if they were not at a boarding school, and the Special and Correspondence Schools served those who were disabled, ill or, living in isolated conditions. By 1910, the numbers of Maori children in public schools outnumbered those enrolled in the country's Native schools. The two systems merged in 1969, though church-run institutions, for Maori and Pakeha, continued to be independent of the state for some time. Education was therefore the core means by which the state could have an influence on children's lives. Linked school medical and dental services worked in all communities and school buildings and facilities were often utilized for neighborhood events.
With a secondary education becoming freely available after 1936, increasing numbers of children had the required minimum two years at a high school. In country areas, one such institution would draw pupils from all of the elementary schools in the district; in urban areas, with a greater density of population, high schools served as a centre for adult education classes after hours. Urbanization of the Maori population opened up access to higher education. Many of the young leaders of the Maori protest movements of the 1960s were the first members of their families to attend a university. Yet the Maori cultural renaissance of the following decades also developed from "flax root" educational initiatives, especially the formation of pre-school kohanga reo (language nests). By the end of the 20th century, students could choose to receive all of their education in the Maori language, in contrast to the beginning of the century, when Maori could not be used in a classroom. (Authorities had maintained that total immersion in English during school hours was the only way for Maori language speakers to master the curriculum.)
Source
Kaitaia District High School. Standard 1. Northland, New Zealand, 1950. In the author's possession. New Windsor School. Room 10, Standards 3 and 4. Auckland, New Zealand. 1964. In the author's possession. Annotated by Jeanine Graham.
How to Cite This Source
"New Zealand Childhoods (18th–20th c.)," in Children and Youth in History, Item #93, https://cyh.rrchnm.org/items/show/93 (accessed August 10, 2021).
Primary Sources
Teaching
Resources