Teaching Module
African Scouting (20th c.)
Pathfinder Warrant [Official Document]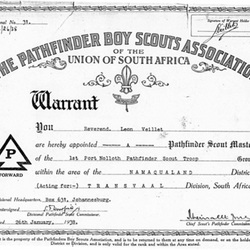 Annotation
Imperial scout headquarters and the national and territorial scout associations were deeply concerned with ensuring that only respectable and responsible men became scoutmasters. In colonial Africa, this meant that potential scoutmasters had to also respect the political realities of European minority rule. As in Great Britain, acceptable candidates received a "warrant" from the territorial scout association permitting them to form and lead scout troops. In Africa, the warrant system was particularly useful in preventing unauthorized Africans from founding their own versions of the movement.
More often than not, as was the case with this warrant for a South African Pathfinder troop, the scoutmasters were missionaries, teachers, or both. Dating from 1938, two years after the compromise that produced the four racially-segregated sections of South African scouting, the document incorporates both the Pathfinder arrow symbol and the official scout badge. However, the fact that it was issued by the "Pathfinder Boy Scouts Association of the Union of South Africa" sent a clear message that the Pathfinders were separate and distinct from mainstream scouting.
Source
South African Scout Association. Special Collections. University of Cape Town. Annotated by Tim Parsons.
How to Cite This Source
"African Scouting (20th c.)," in Children and Youth in History, Item #95, https://cyh.rrchnm.org/items/show/95 (accessed August 10, 2021).