Primary Source
Child in Ramdan Lantern Family Workshop [Photographs]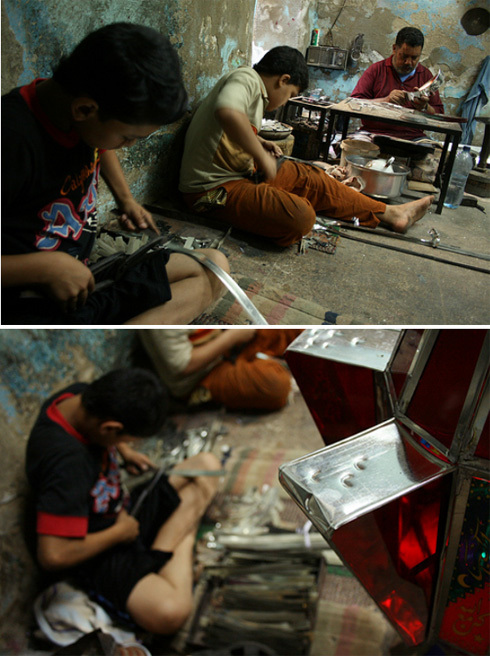 Annotation
In the weeks and months before the start of Ramadan, the ninth lunar month when Muslims fast, traditional workshops like the one on Ahmad Maher Street in the medieval quarter of Cairo, turn recycled tin cans into glittering lanterns. In this "Street of the Lanterns," skills in cutting, hammering, perforating and framing colored glass that have been passed down through artisan families (who usually make ordinary items for the household), are set to the task of making the traditional Ramadan lanterns for children. Brass and tin strips cut from cans of cooking oil, fish, kerosene and cheese become the base, top, and frames for colored glass panes formed into numerous shapes. Many of the lanterns conform to a simple, tapered form like a carriage lamp. Others are shaped like multi-pointed stars, crescents called "a big slice of watermelon," or simply very large and elaborately decorated versions of the smaller ones, but nearly as tall as an adult. Many of the artisans began making the lamps when they were 10 or 15 years old, like the boy in the photograph. Sitting cross-legged on the floor next to the older workers—likely a father, and uncle or grandfather—the youngest workers carry out the simple task of preparing the metal strips with tin snips and simple vice-like tools for drawing the metal straight and smooth. The older, more skilled artisans pierce designs, solder the metal strips, and frame the cut pieces of glass with tin or brass. A base for the candle, a lid, and a ring for hanging complete the lantern. In the second photograph, partly-finished lamps are visible. In the days before Ramadan, the lamps are hung in the shop on long poles for purchase.
While the sharp metal edges can injure young workers, the child labor nevertheless falls within the International Labor Organization guidelines. Acceptable work includes children helping parents around the home, earning pocket money after school and on holidays, and even helping in a family business. Such activity is viewed as beneficial to children's development and socialization. Unacceptable child labor, in contrast, is harmful to physical and mental development, to children's dignity, and "deprives children of their childhood." 1
Source
Mohamed Ali Eddin, "Fanos Making," Flickr, http://www.flickr.com/photos/turtle-t6er/4081558160/ (accessed November 20, 2009). Annotated by Susan Douglass.
How to Cite This Source
"Child in Ramdan Lantern Family Workshop [Photographs]," in Children and Youth in History, Item #370, https://cyh.rrchnm.org/items/show/370 (accessed August 10, 2021).